The messages were sent from and to chief executive Sam Haskell and have already cost the organisation its television partner.
In the emails, the appearance and sex life of Miss America 2013, Mallory Hagan, were mocked.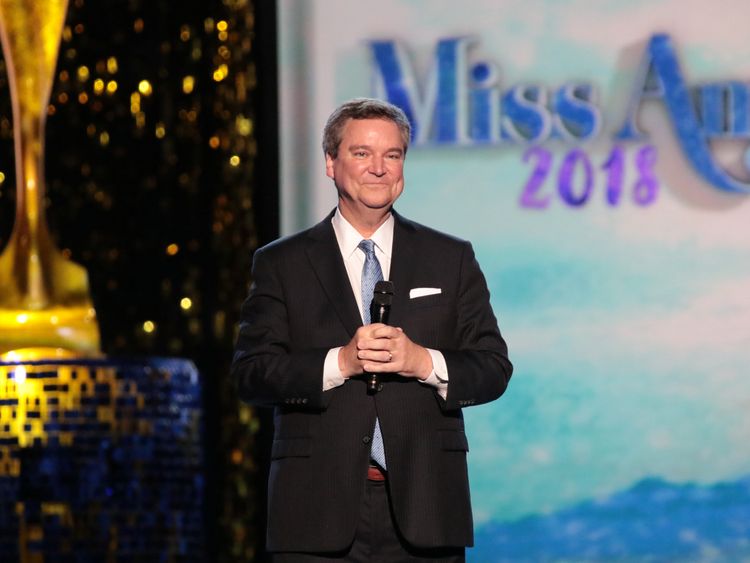 Following the death of another Miss America, a former writer on the show wrote that he wished it had been 1998 winner Kate Shindle instead. In his response to that message, Mr Haskell indicated it had made him laugh.
In addition, Mr Haskell wrote about tactics that would drive 1989 winner Gretchen Carlson "insane".
The Huffington Post, which said it had got the emails from two sources, reported that Ms Carlson had clashed with Mr Haskell and other pageant officials over her desire to modernise the organisation.
Ms Shindle, who has written a book which is critical of the Miss America Organisation, said on Twitter that the content of the emails made her "physically ill".
"No woman should be demeaned with such vulgar slurs," Ms Carlson said.
In statements prior to the leadership resigning, the Miss America Organisation said Mr Haskell had apologised and that the matter was closed.
But after past winners signed a petition calling for resignations, the suspended Mr Haskell resigned along with president Josh Randle and chairman Lynn Weidner.
There remains a question mark over the pageant's future on TV.
It is broadcast from Atlantic City's Boardwalk Hall the week after Labor Day each year.
Dick Clark Productions said it had cut ties with the organisation after the emails were published, saying it found their content "appalling".
Nathan is the Operations Director and one half of Vale Breakfast on Bro Radio. You'll hear him reading local news, hosting at local events and presenting our facebook live videos.