There are plans to expand the road known locally as Five Mile Lane, which links Barry with the A48, in a £25.8 million improvement scheme.
Rubicon Heritage was selected to complete the archaeological work following a public tender process and they arrived on site in March 2017.
During the course of the dig, a wide range of significant finds were made dating back from prehistory, around 3500BC, through to the Roman period of the first to fourth centuries AD.
These included:
More than 450 sites of burial or cremation
A Large quantity of prehistoric and Roman pottery
Prehistoric flint tools including beautifully made arrowheads
Roman metal artefacts such as brooches
The finds are currently being analysed and the results of that should offer the local community a fascinating insight into the area's previously hidden past.
The main dig site has its origins in the Neolithic period, a time in early prehistory, and was probably a ritual landscape, meaning it was used for ceremonies.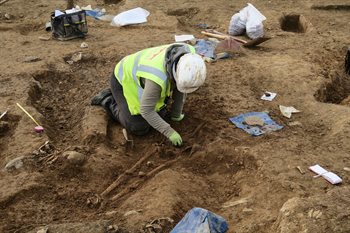 This area was then modified a number of times during a period of use spanning more than 3,000 years.
A major event in its history was the construction of a large Bronze Age barrow within which bodies were buried.
This took place throughout later prehistory and possibly into the Roman period, suggesting the site was an important focus for local communities over many centuries.
During the course of the excavation, further notable sites were discovered, including other prehistoric Bronze Age burial mounds and cremations, a later Iron Age settlement enclosure with roundhouses and a Roman metalworking site that involved iron smelting and smithing.
Further investigations of a Roman villa previously excavated in the 1960s and 1970s also took place.
All works were conducted within strict specifications, agreed and monitored by Glamorgan Gwent Archaeological Trust (GGAT), who provide professional advice to the planning department at the Council in line with Welsh Government guidance.
The detailed methodology for the work was set out in a Written Scheme of Investigation prepared by Cotswold Archaeology on behalf of Capita who are managing the project for the Council.
The implementation of the works was monitored by GGAT on behalf of the planning authority, to ensure compliance with the Written Scheme of Investigation and all relevant professional standards, including those of the Charted Institute for Archaeologists, the body which sets professional standards.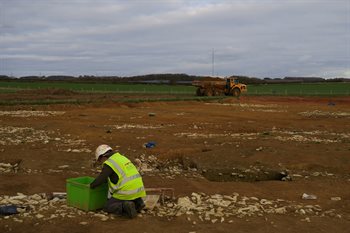 This included regular site inspections, while all excavations were formally signed off by GGAT as complete and to professional standards on completion.
Additionally, the quality of the archaeological works was monitored by two independent consultant archaeologist organisations, Cotswold Archaeology and Black Mountains Archaeology.  All human remains were excavated, recorded and removed in full compliance with a licence issued by the Ministry of Justice under the 1857 Burial Act.
Rubicon Heritage, Glamorgan Gwent Archaeological Trust and Cotswold Archaeology are all registered organisations of the Charted Institute for Archaeologists, which requires detailed peer review and audit.
The organisation has a Kitemark certificate, indicating commitment to professional standards and competence in the heritage sector.
Gaining this seal of quality requires complete adherence to the Institute's code of conduct and its published standards and guidance for professional practice. All senior staff from all archaeological organisations involved are also full members of the Chartered Institute.
Throughout the project, Rubicon has been liaising regularly with the archaeological team at the National Museum of Wales, and the national heritage organisation Cadw has also visited the sites under excavation.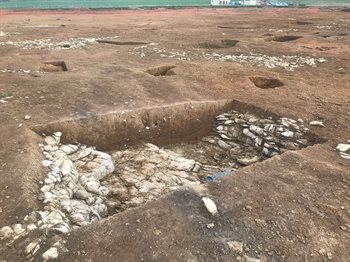 On completion of the post-excavation reporting on the finds from the site, they will be deposited with the National Museum of Wales in Cardiff.
Cllr John Thomas, Leader of the Vale of Glamorgan Council, said: "The artefacts discovered as part of this archaeological work offer a fascinating glimpse into the Vale's distant past.
"I'm sure everyone is as excited as me to learn all about exactly what has been uncovered and its precise historical significance
"All work was carried out in line with recognised industry practices and in consultation with all relevant professional bodies."
Mark Collard, Director of Rubicon Heritage, said: "This project has unearthed a wealth of items with major historical significance. It is rare to retrieve such a large number of artefacts covering such different periods of time.
"The finds are now being analysed by relevant experts and we await with interest the details of their findings.
"As a company, we are hugely experienced in carrying out this type of work and always operate to the highest professional standards. All activity is also subject to scrutiny by a range of other organisations to ensure these standards are maintained."