THE Red Arrows will return for their annual display over Barry Island this Sunday, in an event supported by Vale of Glamorgan Council.
Known as one of the world's premier aerobatic teams, the group of stunt aeroplanes is scheduled to begin its performance at 12 noon.
The event has been organised by the Barry Tourist Railway and a toy and train fair will also take place at Barry Island Station on the same day.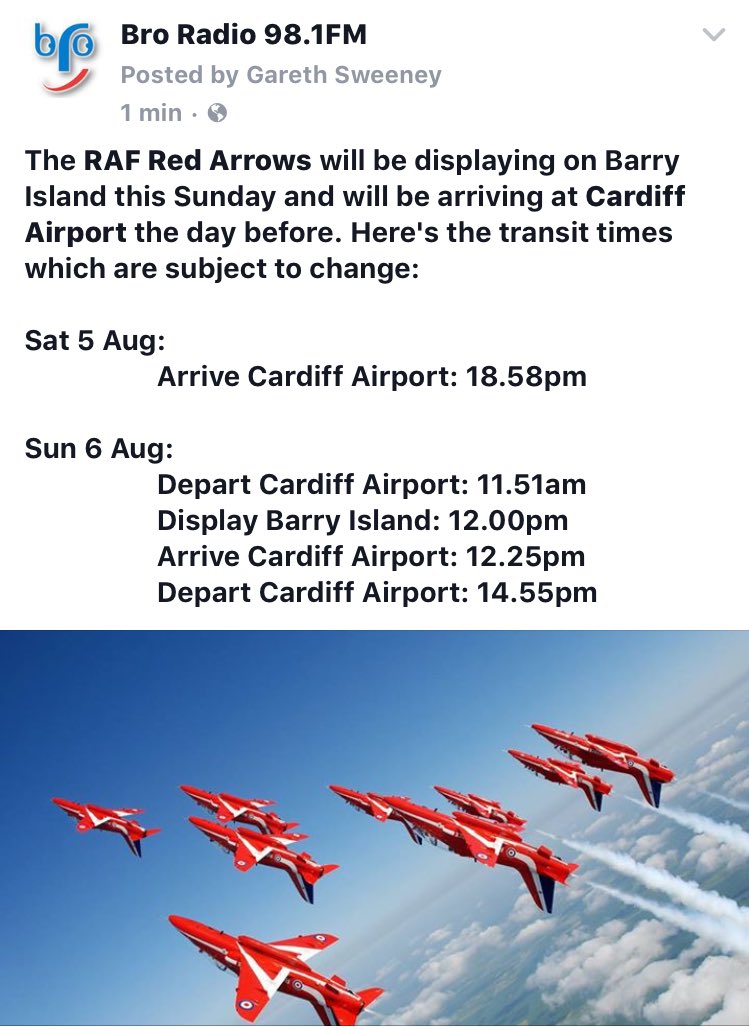 John Buxton, Managing Director of The Barry Tourist Railway said: "The event is sponsored by our sister company, Cambrian Transport Ltd. In addition, it's great that we have also secured sponsorship from other companies and Barry Island Traders this year.
"The display is a substantial financial investment and by sharing the costs, it is hoped that, with continued support, we can make this amazing aerobatic display an annual event."
Councillor Gordon Kemp, Cabinet Member for Social Care, Health & Leisure, said: "The Vale of Glamorgan Council is delighted to help bring the Red Arrows back to Barry Island for another year.
"This follows on from the Isle of Fire festival at the Island a couple of weeks ago and is just one of many events taking place across the County this summer."
Barry Tourist Railway will also be operating a regular 20-minute interval park and ride rail shuttle from Hood Road and Waterfront Station to Barry Island Station between 9.15am and 3.30pm.
The park and ride will cost £5 per car (up to five people) or £10 per people carrier of six to 10 persons.
For more information, visit www.barrytouristrailway.co.uk or contact John Buxton at Barry Tourist Railway on 01446 748816 or by emailing john.buxton@cambriantransport.com