The UEFA Champions League Final takes place on Saturday 3 June at the National Stadium of Wales (as the Principality Stadium will be renamed for the event)
Upto 175,000 additional people will be travelling into the capital to enjoy what is the biggest sporting occasion of 2017.
Bro Radio has put together a comprehensive travel guide for the Vale of Glamorgan and Cardiff which you can see below:
AIR:
24,000 of those visitors will use Cardiff Airport, which means there will be over 400 additional aircraft movements alongside its normal flight schedule over that weekend.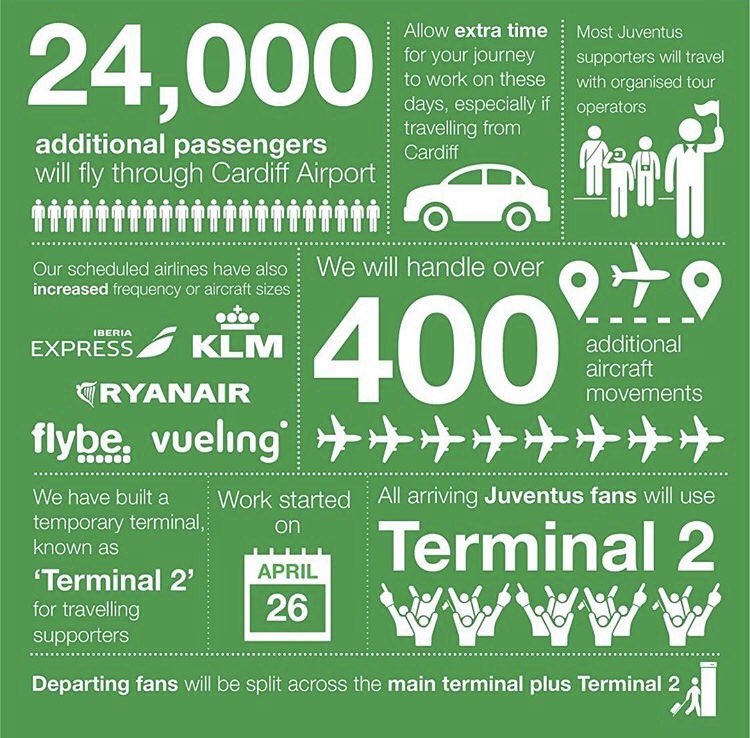 Roads and rail are also expected to be very busy and organisers recommend avoiding travelling to Cardiff on Saturday 3 June in particular, unless your journey is essential. If you do need to travel, or are keen to soak up the atmosphere, please note your journey may be longer than usual, so head out early and plan ahead.
ROADS:
The map below shows busy periods coming into Cardiff on Saturday 3 June:
The only planned road closures in the Vale of Glamorgan are:
Rhoose Road in Rhoose from the roundabout at the junction of Porthkerry Road north to the airport will be closed to all traffic except residents from 2/06/17 – 05/06/17
Tredogan Road south of junction with B4265 Rhoose By-Pass will also be closed on those dates.
Although the road is not planned to be closed at anytime, the entire length of Port Road to the Barry Docks Link Road (A4231) and onwards towards Culverhouse Cross will also be very busy throughout the weekend as fans head towards Cardiff and back towards the Airport.
The M4 and all the main roads into Cardiff will be at their busiest from 10.00 – 20.00 on Saturday (June 3) and again from 22.00 – 03.00 (Sunday 4 June). There will also be more road closures and diversions than ever before in Central Cardiff on Saturday 3 June and around Cardiff Bay and Castle St from 1 – 4 June.
The map below shows the extent of the road closures within the City and dates they are applicable:
Rail: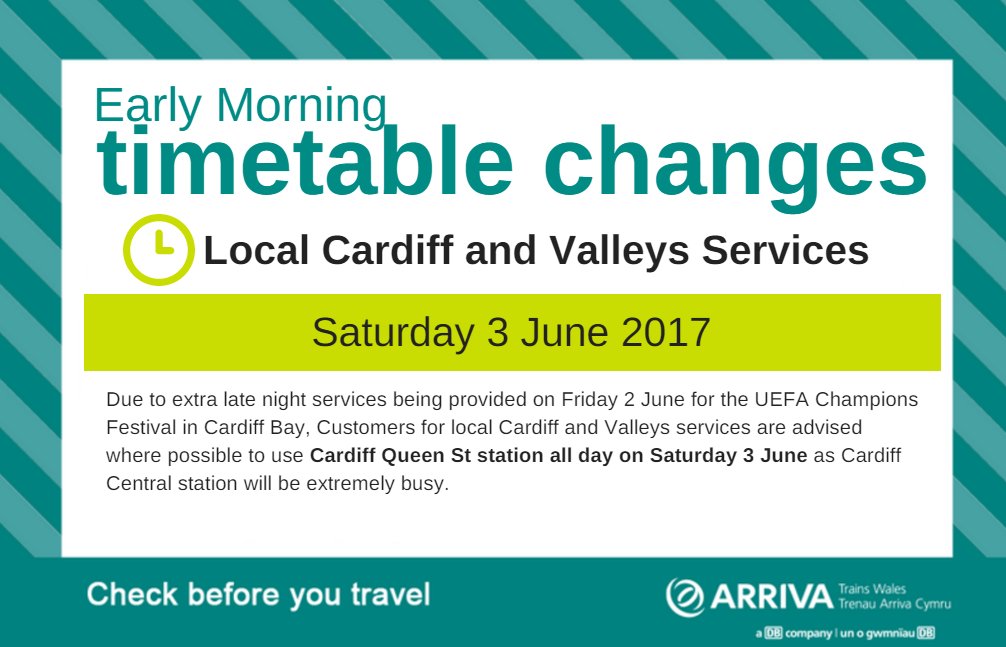 Cardiff Central Station, Cardiff Queen Street Station and Cardiff Bay Station are expected to be exceptionally busy up until 04.00 on Sunday 4 June . Cardiff Central Station will only be open for mainline services towards London, the Midlands and West Wales only over this periods, so customers for Local Cardiff and Valleys services (Vale of Glamorgan) are to use Queen Street Station.
Arriva Trains Wales recommend that if you don't have a ticket for the match, or your journey isn't essential, to please think about travelling to or via Cardiff on a different day. If your journey is essential or you are travelling to the match on Saturday 3 June they have offered this advice:
Cardiff Queen Street only will be used if you're planning a trip from/to the Vale of Glamorgan
Due to the extra late night services provided on Friday 2 June for the UEFA Champions Festival in Cardiff Bay, there will be some early morning timetable amendments to local Cardiff and Valleys / Vale of Glamorgan services on Saturday 3 June 2017. Click here for first train details .
You can view the amended time table by clicking here.
Post-match Queueing System
A post-match queueing system will be in place at Cardiff Central and Cardiff Queen Street after the match to get everyone home safely. Detailed maps will be available here nearer the event
Customers must have a valid ticket to travel prior to joining the queuing system.
Buy your ticket in advance to avoid the queues at the ticket sales desks.
Where there are large volumes in the queue system, you may need to wait up to 90 minutes for your train home.
The queuing system is outside, dress appropriately for the weather
PARKING
Parking arrangements in central Cardiff will be different to usual on 1-4 June and this combined with the many thousands of football fans will make Saturday 3 June a particularly challenging day.
Car parking on Saturday 3 June
Cardiff West (Leckwith) Park & Ride site, which is usually open on a Saturday, will be closed on Saturday 3 June due to the Event.
Cardiff East (Pentwyn) Park & Ride will be open, however it is expected to be exceptionally busy with football fans.
County Hall (Cardiff Bay) will be open as usual, however it is expected to be exceptionally busy with football fans.
Additional parking is being made available for event goers in Cardiff Bay (South) but again this is expected to be exceptionally on the day of the match.
WALKING/CYCLING
Why not take the opportunity over this period to leave your car at home and walk or cycle those shorter journeys to experience some of the UEFA Champions League atmosphere.
Cardiff Central Rail Station to UEFA Champions Festival at Cardiff Bay: About 20 minute along Lloyd George Avenue
Cardiff Castle to UEFA Champions Festival at Cardiff Bay: About 25 minutes along St Mary's Street or The Hays through to Lloyd George Avenue
Cardiff Queen Street Rail Station to UEFA Champions Festival at Cardiff Bay: 25 minutes
Remember, Saturday 3 June is anticipated to be extremely busy in the city centre, even when you are walking.
Due to the scale of the Event there will be some disruption to local cycle routes including around Bute Park, the City Centre and the Bay. While every effort has been made to keep disruption to a minimum some cycle routes will temporarily be closed and wherever possible alternative routes will be clearly signed. Those who are considering cycling in areas likely to be disrupted are advised to allow extra time for their journeys.
TIPS TO PLAN AHEAD: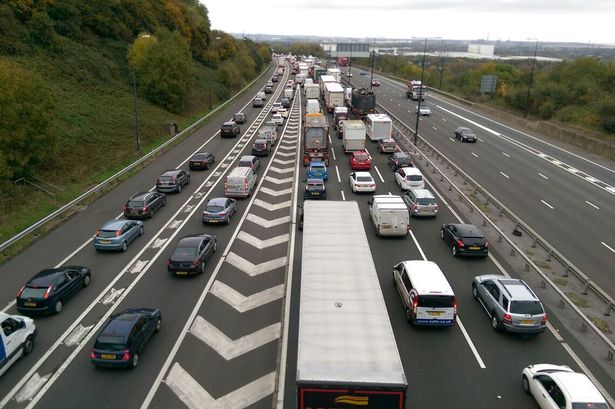 1. Check if your journey will be affected. Have a look above and see if your journey will be affected.
2. Try different travel tactics to avoid the crowds. Consider one of the following wherever possible:
Reduce non-essential journeys
Retime essential journeys to less busy periods
Re-route to avoid the busy areas
Re-mode to an alternative form of travel.
3. Make sure you head out early. Consider using public transport rather than travelling by car.
4. Check rail changes. Before travelling, check your journey before you leave by clicking here.
5. Know the road closures in advance. There will be more extensive road closures in the city centre than a normal event in the days leading up to and directly afterwards to manage the crowds.
6. Consider staying local on Saturday 3 June.  If you do not have a ticket to the UEFA Champions League Final on Saturday 3 June, then think again before going into town as it will be packed with fans.
7. Visit the UEFA Champions Festival on Thursday 1, Friday 2 and Sunday 4 June to beat the crowds.  See the trophy, enjoy the atmosphere – but avoid Saturday 3 June as the UEFA Champions League Final is on.
8. Download the official app.  Download the Cardiff 2017 Travel Guide App to plan & book your journey:
Apple or Google Play