Alyssa Elsman, an 18-year-old tourist from Portage, Michigan, was killed and her 13-year-old sister is among the 22 people injured.
Four people are in a critical condition, three are serious and the others also needed treatment for their injuries.
The suspect, Richard Rojas, 26, is said to have performed a u-turn and driven at speed against the flow of traffic toward one of the world's most popular tourist spots.
The car finally hit a metal post, becoming wedged partly on its side, and the suspect jumped out of the vehicle.
As he attempted to flee, police and several members of the public brought him down.
:: New York crash witnesses describe "gruesome" scene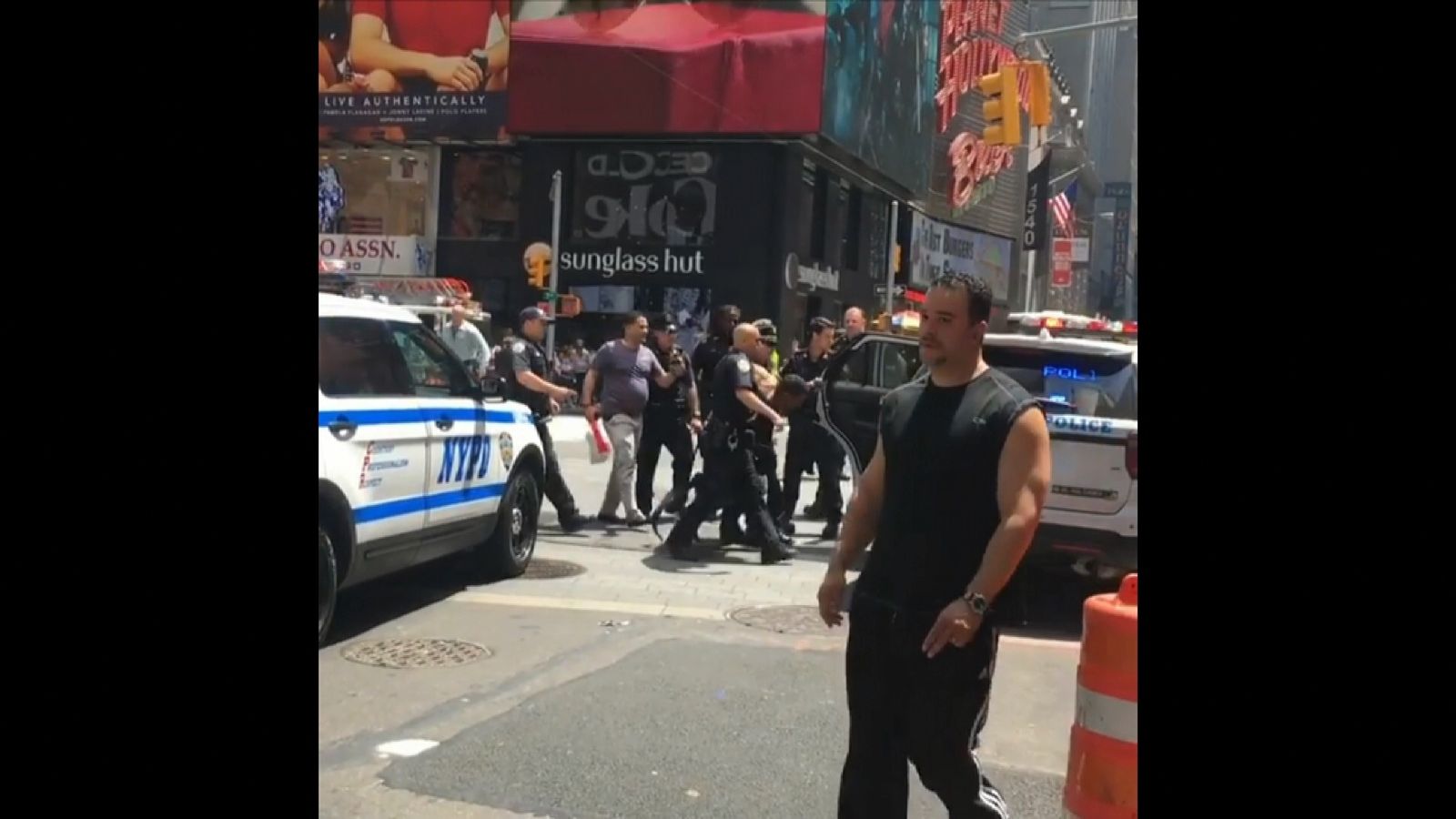 A picture of the suspect on the TMZ website appears to show him in a rage in the moments after the car is stopped.
Another on the site shows him with a ripped t-shirt after being subdued and surrounded by police officers.
City authorities said they had no reason to suspect terrorism.
They said Rojas, a former US Navy veteran, has a record of drink-driving and is currently being tested for alcohol and drugs.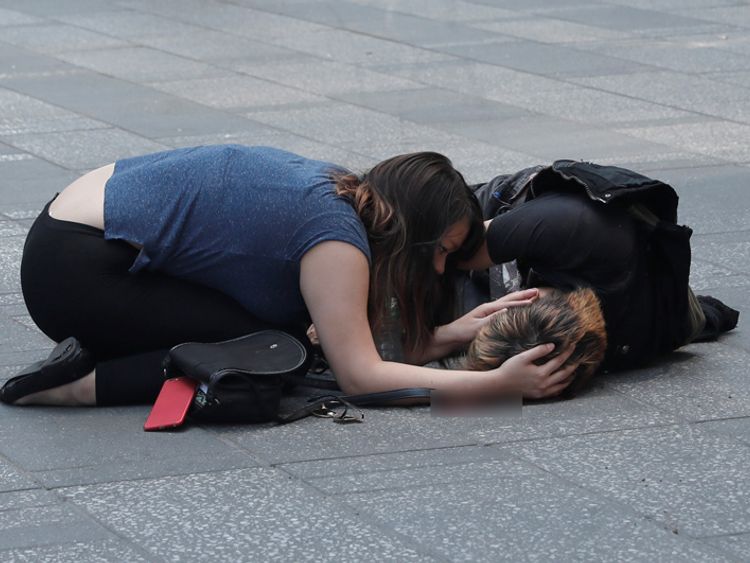 New York Police Department assistant chief William Aubry said the incident started at 11.54am local time, when Rojas's Honda Accord was seen travelling southbound on 7th Avenue in the direction of 42nd Street.
Mr Aubry said: "He makes a u-turn on to the westside sidewalk between 7th Avenue and 42nd Street, proceeds on the westside sidewalk for three and a half blocks where he hits a stanchion.
"Between 42nd and 43rd, an 18-year-old female was struck and is now dead.
"Her 13-year-old sister was also struck and she is being treated in hospital.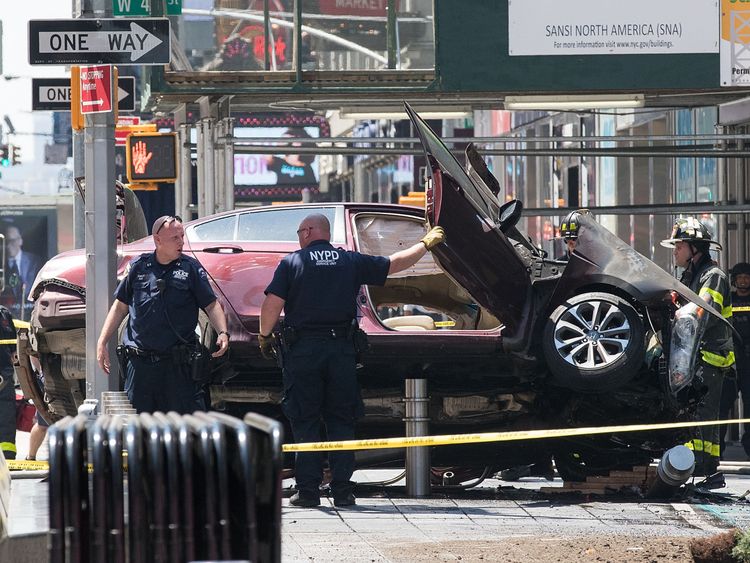 "Upwards of over 20 other people were injured between 42nd and 45th Street on that sidewalk.
"When he hits the stanchion, there is a traffic agent that ends up tackling him."
He said Rojas had been held in 2008 in Queens and in 2015 in Manhattan for drink-driving and in May for "menacing".
Several pedestrians have been injured by a speeding car in New York City's Times Square. Emergency services at the scene in New York

Injured man treated at the scene

The car came to a stop outside the Swatch shop, at the corner of Broadway and W 45th St

The vehicle ended up on its side in one of the world's most popular tourist attractions. Pic: @gb__

One man has been arrested at the scene of the car crash

A person being treated at the scene

Injured person treated at scene

An injured person helped by passers-by

Another injured person being treated

The New York City Fire Department posted this picture of the incident. Pic: @FDNY

New York City Fire Department officers respond to the incident. Pic: @FDNY

Officials inspecting the crashed car

A stretch of Times Square has now been cordoned off. Pic: John Arabadjis

The incident occurred around midday in New York
Witnesses described seeing people being loaded on to stretchers, shoes scattered around the scene and people in bloodstained blankets.
Juan Soto told Sky News: "I came upon the scene – a gruesome scene with multiple victims on the sidewalk and the street.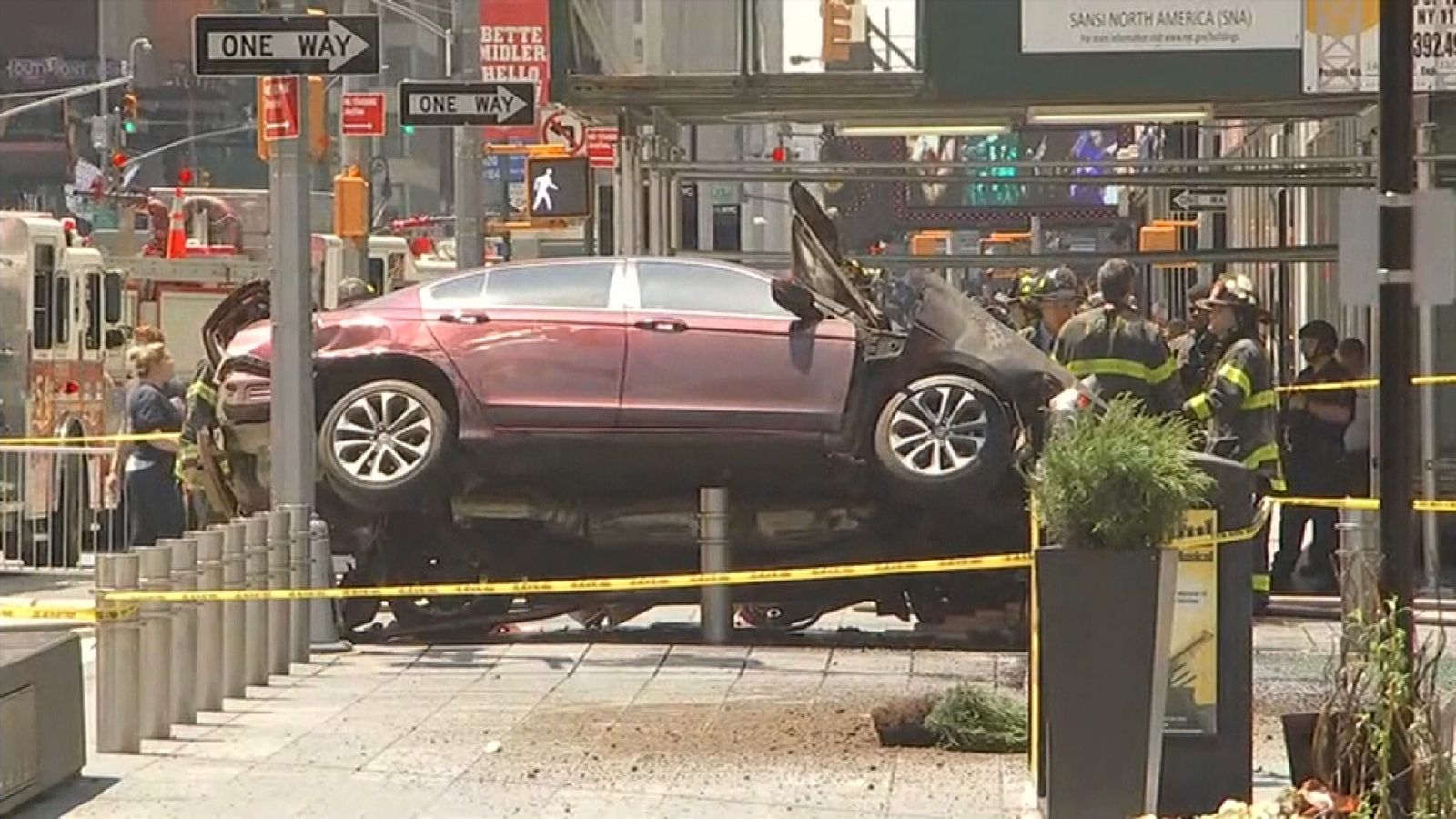 "I saw the head injuries and the blood and the victims not moving; I realised… that a car had ran into the crowd just minutes before."
The White House said President Donald Trump has been "made aware" of what has happened.
More than 300,000 people pass through Times Square every day.
© 2017, Vale of Glamorgan Broadcasting CIC T/A: Bro Radio & Sky News.